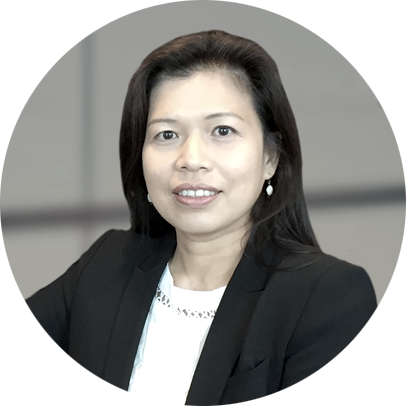 Mabel Leung
Mabel is a recruitment industry veteran who has accumulated almost 20 years of experience. She benefits from a solid business network and enjoys an excellent reputation by demonstrating her abilities to successfully identify talent and exceed client expectations. Before establishing Mindsearch, Mabel has hold senior consultancy position at various international recruitment companies.

Educated, lived and worked in both Hong Kong and United Kingdom, Mabel has worked with both multinational and local companies from a diverse background. This has equipped her with a sensitivity of not only the business needs, but also the dynamics of matching the right person to the right job.

She majored in Law and obtained her Honors degree from the University of London. Mabel also holds a Diploma in Human Resources Management from the University of Hong Kong. Although not a psychology academic; Mabel believes in adopting an objective approach of using psychology assessment and hence; she is a certified trainer of SHL since 2004.
Some of our past successful placements:
CEO

- a HK listed Retail Company

General Manager

- A HK listed F&B chain group

General Manager

- A HK listed leading footwear and sportswear retailer

General Manager, China

- a leading sportswear and apparel brand

Assistant General Manager (Factory)

– a HK listed F&B chain group

Head of Marketing

– Listed retailer with multibrands

Head of Sales, APAC

- own of world leader in consumer appliances industry

VP of Corporate Communication

- World's largest chain of fast food restaurants

VP of Business Development (Leasing)

- World's largest chain of fast food restaurants

Senior Marketing Director

- a large conglomerate with multiple businesses

Marketing Director (Greater China)

- a HK listed leading footwear and sportswear retailer

Head of Wholesale, APAC

- an international company with 10 worldwide lifestyle subsidiaries including fashion, accessories and F&B operations

Client Services Director

- Worldwide leading luxury watches & jewelry brand

Financial Controller

- A UK Listed Automotive Company

Regional Product Marketing Manager

- one of the world's largest Internet Company

Head of Visual Merchandising, APAC

- a global European luxury fashion house

Senior Visual Merchandising Manager

- an international multi-brand management company

PR & Marketing Manager

- an Italian luxury goods company

Operation Manager

– a HK listed F&B group

Retail Manager

- a global luxury fashion house

Boutique Manager

- Top tier luxury Goods Company

Senior Human Resources Manager

- MNC listed F&B restaurant group

Business Analyst

– a Hong Kong listed Retailer with health & beauty operations

Marketing Manager

- a listed FMCG company

Sales Manager

- a HK listed FMCG Company

Regional Digital Marketing Manager

- a Global skincare company

Training Manager

- a Global luxury goods company